Numerology…My Favorite Insight Tool!!!
~Abundant Thinkers Gain Knowledge of Numerology to Unveil Their Way of Living Their Lives on Purpose By Following Their Individual & Unique Life Paths…~
Much of my self discovery in life has come from gaining greater, deeper insight of my characteristics, traits, and personality make up through understanding Numerology.  I started my hunt for answers to this ancient science in hopes of finding my own truth in learning about it when I was about 16 years old.  (That is over 17 years ago, LOL!)
Numerology has given me a deeper perspective and understanding of who I am on many different levels.  I have gained tremendous insight on how I interact with the outside world, as well as with my inner world.  Most importantly, numerology has taught me about how to interact successfully with other human beings according to what life path number they are.
You see, the reason why I have had a healthy obsession with numerology for so long, is because it really is priceless wisdom to posses and know the characteristics and or personality traits to each of the 9 numbers…it just makes life a whole lot easier when it comes to interacting socially.  It is extremely rare for me to meet someone and not get along with them or not know how to interact with them. 
How? Because I understand and am aware of the characteristics that makes up each of the numbers.  Knowing this tells me a lot about them as individuals and gives me more instruction on the similarities and differences we "naturally" have in common according to compatibility with my own life path number, which is a 7. 
Sounds interesting right?  You bet it is!  And after all these years of studying this 4000+ years old science, I still have so much more to learn.  But anyone can do it…it is extremely simple.  Bottom line is…We all have numbers in our birthdates and we all are given identities we call "names". 
In Numerology, each single-digit number is seen as having its own unique personality; a range of attributes that is well defined and specific to that number. While there are certain character traits that are shared by multiple numbers, each number's complete personality is entirely unique and easy to recognize.
There are five building blocks or "core numbers" that make up the Numerology of YOU: your Life Path number, your Expression number, your Personality number, your Heart's Desire number, and your Birth Day number. Each one is based off of your personal birth name and/or birth date and has its own deep-rooted impact on the person you are today. 
When I started studying numerology, there were no cool and helpful web sites to go to…but there is now!  My favorite site, and the most accurate that I have come across, is a great place to start or continue learning about your numbers and what they mean.  
Numerology remains my favorite way to gain insight about anyone, especially myself, and is so much fun to learn and practice on your friends and family…It is definitely one of the ways I continue on, "Purposefully Lovin' & Livin' It Up" in my world!!! 🙂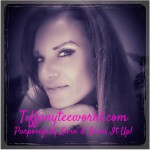 What are your numbers? Click here for an eerily accurate reading about you!  This is THE BEST FREE breakdown I have EVER seen in my life…Most accurate I have discovered in 17 years…
Get your free personal numerology report at numerology.com. Just fill in your name and birthdate and you're get a detailed video analysis instantly!
I would love to hear more about your personal discovery with numerology! Whether you are new or if you are an experienced numerology lover already, please feel free to share…Your feedback is valuable! 🙂